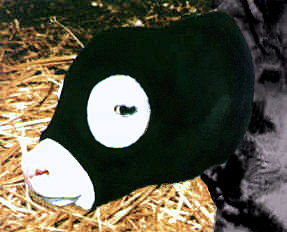 SAVE ME EARS
ARE YOU CALVING IN COLD WEATHER?

How many times have you dried a newborn calve off, right after it was born during cold weather, only to have the ears freeze anyway? "Mother Nature" probably is your problem.

Cows by nature are good mothers. We cattlemen bred them for their mothering abilities. For at least the first 24 hours of a newborns life, "Mom" by instinct just keeps proudly washing her new baby. Especially around the easy to reach ears. So even though you did your best to save them, the ears get wet again....thanks to "Mom" and then they freeze! With all your efforts to get that healthy calf on the ground, warm and dry, your efforts could suddenly become meaningless without the help of SAVE ME EARS

ABOUT "SAVE ME EARS"
In the early stages, SAVE ME EARS started out unsatisfactory as a mitten type cover for each ear. Seemed like once the ears were cold they stayed cold in the mitten type. Most cattlemen should know that having your gloves off for a spell in sub-zero temps while repairing something, then putting ones cold nearly froze hands back in the gloves, that often times the hands just don't warm up. Many cows find those type of ear mitten covers great to chew on too!
But put your cold hands inside the pockets next to the body, hands will warm up pretty quick. SAVE ME EARS works along the same principal, capturing the calves own body heat in a pocket!
SAVE ME EARS was designed so that the calves ears are held back in a natural birthing position. SAVE ME EARS material, goes back along the calves neck having a specially designed air pocket to capture that extra needed body heat that the calves head may not supply enough of on it's own. Especially with weaker calves with slow circulation.
Adjustment is done with only three velcro like hook tape straps, of which one is attached to a special patented neck strap that holds SAVE ME EARS in proper position. These straps can be fastened anywhere needed on the special made tough nylon outer surface. When properly fitted, it does not interfere with the natural ability of the calf to nurse on a cow.
SAVE ME EARS is sewn together with a quality, tough, 69 weight nylon thread, the type used to sew boot tops. Insulation is durable, machine washable, neoprene, originally developed for deep water divers, to keep them warm and protected. The neoprene is the thicker type, to help fight cows from chewing it to pieces or tearing it up.
Unlike many other foam based materials, neoprene closed cells resists soaking up lots of water, and is reusable over and over. This material has a reputation of remaining flexible without cracking in very cold temps.
SAVE ME EARS was designed to protect the calf ears from mothering cow licks just during the first chilly night of life when the temps (or wind chill) drop below 20-25 degrees F when newborn ears are most likely to freeze, or the first 24 to 36 hours of calves life during colder weather, when the cow licks her newborn calf the most. During which time the newborns circulation is also a little slower too.
In most cases the covering can be used on the next newborn after the first 24 to 36 hours, as usually cows get back to the job of eating to feed their calf, and in most cases, her calves circulation will pick up.
Just saving two sets of ears could possibly cover the cost of one SAVE ME EARS, and extra ears saved could mean that badly needed profit for your extra hard work and efforts.
Designed, cut out, and sewn together right here in North Dakota!
Recent Comment 01/14/2017: "Just thought I would send a quick note to say thanks for a great product. Just finished up a cold week of calving heifers in Northeast Nebraska and I definitely appreciated what a quality product these hoods are. Thanks again and keep up the good work." ~ Chris M., NE
Recent Comment 01/09/2018: "I'm impressed. Someone has put a lot of thought and ingenuity in developing this product. Appears indestructible, yet soft and supple for the calf. Sure beats the Carhartt beanie I was attempting to use. Ordered them Friday night at 8 pm, was in my mailbox on Monday. How's that for fast shipping. My calves appreciate your dedication." ~ Dennis D. K., PA
Recent Comment 02/19/2019: "...We calve out and seldom have newborns inside, thanks to your awesome ear protector..." ~ T.W, NE
NOTE ON SIZES: Some breeders having calves with smaller size heads, prefer the "Small" size Save Me Ears. Many Angus breeders will place an order that is half or less of the regular size and half or more of the small size. Angus breeders who noramlly have an average birth weight of 65 to 80 pounds, will probably appreciate the small size best.
Click Here: Questions, Answers & Tips about Save Me Ears
Shipping will vary according to zip code/zone location of buyer. Please use "Estimate Shipping" calculator in the shopping cart after you click "Add to Cart", to get a Shipping calculation to your location.
Please Note: During extreme cold weather we sometimes run out of materials due to high demand. During those times, we usually have more neoprene material on order and add to the inventory as supplies come in and we get them assembled. Please Check our Shopping Cart for current availability. If we are temporarily out of stock of the size you need, and you would like to get a email notice when we have more available again, please Contact Us
Large Size
75 to 110 pound calf. Some Angus breeders having smaller size calving ease calf heads may also want to order small Small size.
Price: $69.75 One Sale $58.59. Please check our shopping cart for current availability, Plus Priority Shipping/packaging in U.S.A.

Small Size
60 to 80 pound calf, many Angus breeders like this size for their calving ease calves with smaller heads.
Price: $69.75 One Sale $58.59. Please check our shopping cart for current availability, Plus Priority Shipping/packaging in U.S.A.

Small Size Lite
Same as Small Size, but lighter weight 3mm neoprene. Comfortable for the calf, but untested in extreme sub-zero weather. Is known to do well in barn or zero and above temps.
Price: $68.75 One Sale $57.59. Limited Supply. Please check our shopping cart for current availability, Plus Priority Shipping/packaging in U.S.A.